Conference Report
Hi Everyone,
I completed my trip report to my colleagues on the ReThink Methane conference.  I do have to say I learned a lot about the biogas industry, and where most of the biogas projects are going here in California.
First some terminology.  Biogas (sometimes called 'brown gas') is the raw, untreated gas that is collected from landfills, WWTPs (waster water treatment plants) and biodigesters.  It consists mostly of CH4 (methane) and CO2 (carbon dioxide), and generally a small amount of H2S (hydrogen sulfide), S (sulfur) and other trace elements.  Landfills and WWTPs usually have a fairly high amount of siloxane in the biogas.   Siloxane is a broken-down form of silicone, which is a common ingredient in cosmetics and used in biomedical applications (silicone is essentially chains of siloxanes).  The mix of CH4 and CO2 is usually around 50% each, but it can change quite a bit depending on the source.
Biomethane is used to describe a refined version of biogas, where the H2S, siloxane, and other contaminants are removed, along with most of the CO2.  In industry parlance, this is also called RNG (renewable natural gas), or 'green gas'.  Chemically, this is identical to natural gas, so it can be pumped into a utility pipeline.  CNG and LNG is compressed and liquid natural gas, respectively.  For RNG, they refer to this as C-RNG or L-RNG.  Interestingly enough, Sacramento has the largest food waster biodigester in North America.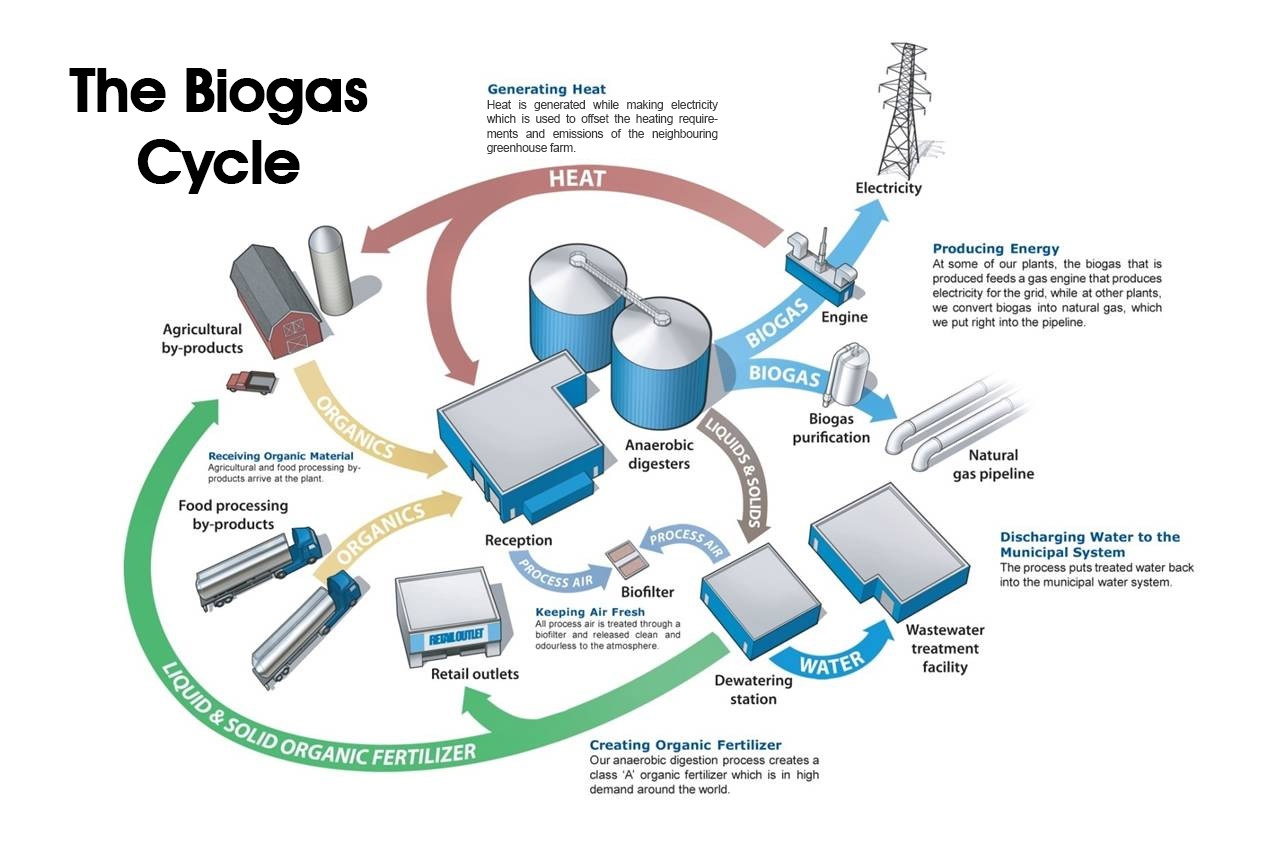 In the oil & gas industry (and coal mining) they refer to the gas that comes from these activities as sour gas, or sometimes APG (associated petroleum gas).  Chemically it's almost identical to biogas, just the source is different.  The gas is considered more "sour" if it has more H2S.  In industry parlance when they "sweeten" sour gas, they are removing the H2S.  A recent report from the Environmental Defense Fund on methane flaring in the Texas Permian Basin shows a HUGE amount of methane being wasted, and also a potential opportunity for our gen-sets.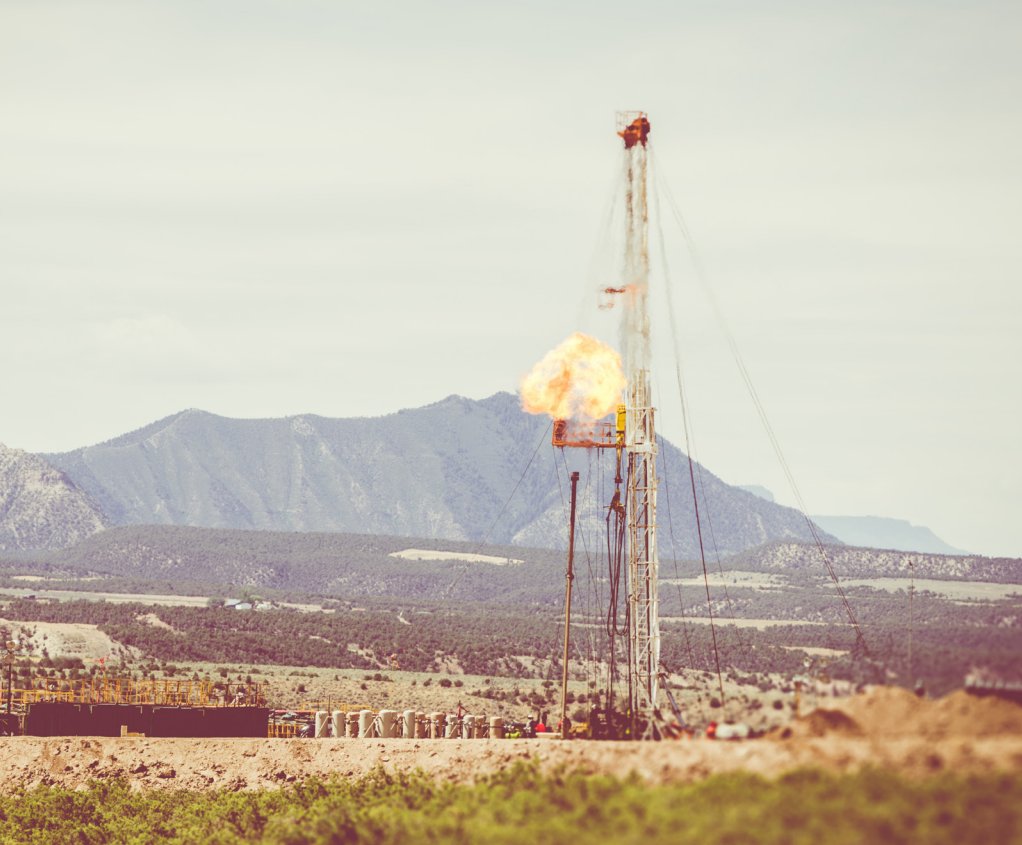 OK…enough jargon.  One of the things I learned at the conference is that the big biogas producers are shifting from generating electricity  to selling RNG to the transportation sector.  At first, I couldn't understand the shift, but there is an incentive.
The EPA runs a program called RFS, or Renewable Fuel Standard.  This program requires a certain amount of renewable fuel be used in transportation fuel.  This program ensures this by creating a market to buy and sell credits called RINs (renewable identification numbers).  When a non-renewable fuel is produced, the producer has to buy RINs in order to meet their obligatory targets for renewable fuels (or, they can actually produce renewable fuels).  RNG producers are given RINs when they produce fuel for the transportation industry.  There are some tracking requirements, but it's an automated system.  The RINs can be sold on a marketplace run by the EPA, allowing the RNG producer to make extra money in addition to the sale of the RNG.
But, the incentives go beyond the EPA.   The CA Air Resources Board runs a program called LCFS, or Low Carbon Fuel Standard.  This program is almost a copy of the EPA program – they give credits to RNG producers who sell into the transportation fuel supply.  Non-renewable NG producers can buy these credits to meet obligatory targets for renewable fuels.  This creates another market that RNG producers can use to make extra money.

With RFS and LCFS credits, biogas producers have more incentive to refine the biogas to biomethane and sell to utilities and into the transportation sector.  The price incentives are pretty high – producers can earn 2-3 times more than generating and selling electricity.  But it's not easy – the refining equipment is very expensive, too cost prohibitive for smaller producers.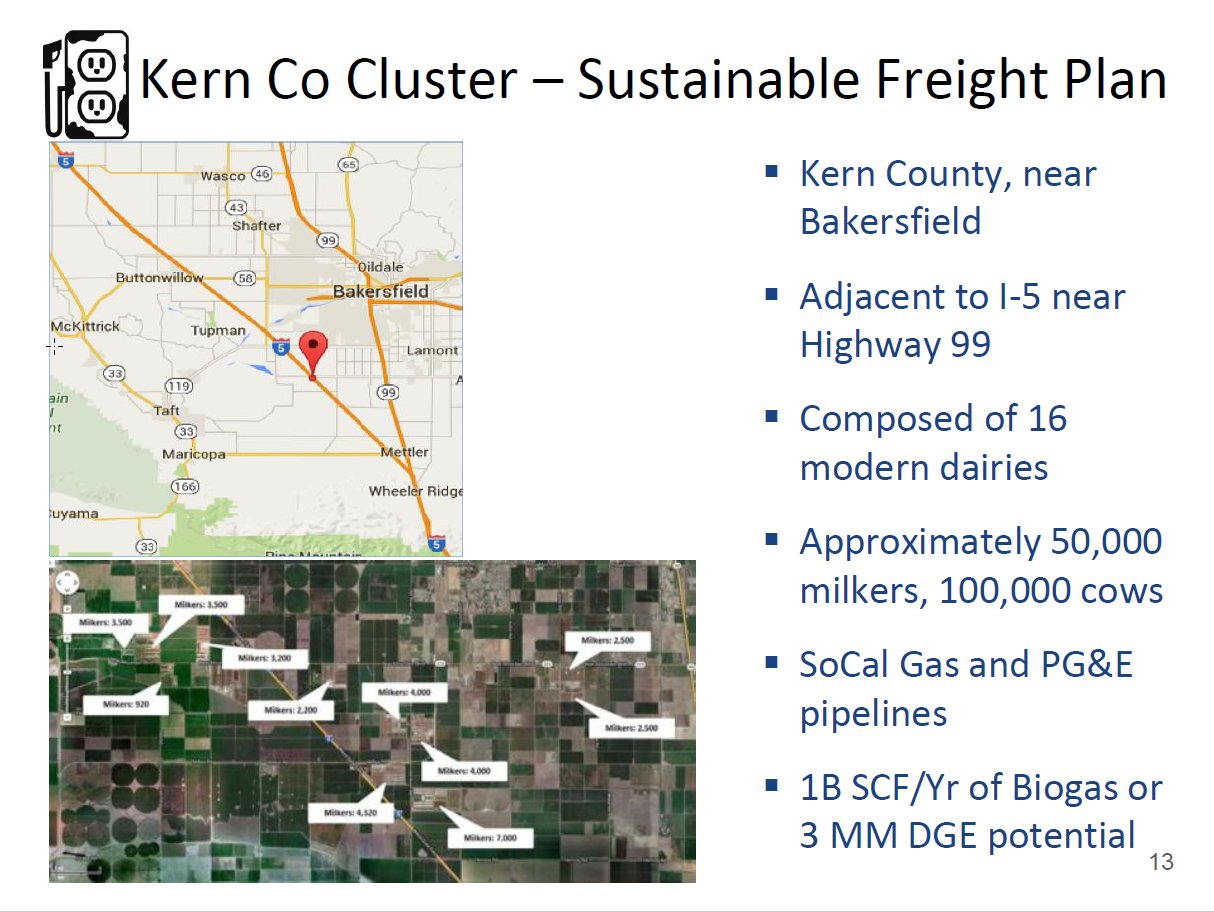 To get around this problem, smaller producers are forming "clusters".   The slide above shows some details of a biogas cluster in Kern County being developed by California BioEnergy.  Each farm will collect it's digester biogas and pipe it to a central facility (pipes that carry biogas are called "brown" pipes).  The central facility will refine the biogas to biomethane, and then can sell the gas direct to the transportation industry.  Initially, gas will be compressed and trucked out, but the Kern Co facility is located near two major utility NG pipelines, so they can connect to those pipelines in the future.
These changes in the industry are driving a shift toward RNG production for transportation.  In addition, public utilities are making it harder to sign PPAs (power purchase agreements) that make it equitable for the biogas producers to generate electricity.  However, there are a large number of farms and other biogas producers that cannot connect to pipelines (because of cost, or geographic reasons) so their only choice to reduce their methane emissions is to use biodigesters to generate electricity – and the Freedom Motors solution can really make a difference here.
So how does the Freedom Motors Rotapower engine make a difference for biogas producers?  I have summarized much of that in the flyer below.  For producers, the issues are really capital costs, as the lower the cost, the faster they can recoup their investment, and the less debt they have to secure.  For California air regulators, the advantages are in emissions, especially with the low NOx, which is the biggest contributor to smog.  The NOx numbers we report in the flyer below are from an early test with an non-optimized fuel system design, no turbocharging and a un-metered amount of water in the charge.  We believe we can reduce the NOx emissions even further with an tuned system (from 50ppm to 2.5ppm) based on other testing results.  NOx is formed because nitrogen in the charge is combusted at very high temperatures, and by adding water we cool the rotor even further to prevent the NOx generation.
So beyond understanding the state of the biogas industry, I also made some contacts with other companies working in this space.  My favorite was Phoenix Energy, who build on-site biomass power plants.  The CEO was at the conference and talked about his company, and their frustration with forest management, as Phoenix is trying to get contracts to rip out all the dead trees and undergrowth from our forests and convert this biomass to electricity.  There are lots of roadblocks here, but they are working hard for this because there are over 100 million dead trees in the Sierra Nevada mountains, and these present a very high risk for uncontrollable wildfires.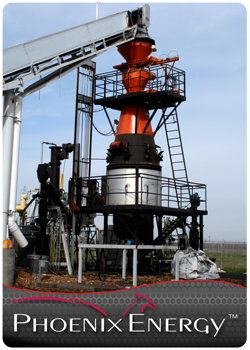 The CEO, Greg Stangl, talked in his speech about wanting to reduce his biomass power plants in price from $7000/kW to $5000/kW.  After understanding his generator costs, I realized that the Rotapower engine could help his company meet this target.  I am currently engaging with Phoenix Energy on this possibility  to work together.  (BTW, the picture at the top of this blog is a Phoenix Energy biomass power plant).
I met a few other industry insiders who have been very helpful, and I hope to make more inroads with them in the next few weeks.  One of the Moller shareholders also went to a conference this week and met the CEO of California BioEnergy, so we are hoping to make some inroads there as well.  Our efforts here are to try an establish some kind of sponsored product development agreement, where we work with them to improve their product lines with some additional funding.  We truly believe we can bring their overall costs down significantly in developing these systems, as our cost analysis shows a Rotapower generator at least 1/3 the price of a microturbine or piston engine installation.
ARPA-E OPEN 2018 FOA
Today Dr. Moller and I applied for the OPEN 2018 grant from ARPA-E.  Concept papers (CP) were due today, and my team (especially Chaz Smith) helped over the last two weeks to compile the paper.  I cannot share the paper because it contains confidential business secrets, but I can share the abstract:
BREAKTHROUGH FUEL EFFICIENCY WITH A COMPOUND ROTARY ENGINE

Freedom Motors (FM) has developed a prototype compound rotary engine that has the attributes required to effectively utilize untreated biogas. The high-thermal efficiency of this design also makes it a viable candidate to approach the ARPA-E GENSETS program goal of 40% fuel-to-electricity efficiency.
A single-rotor rotary engine is compounded by adding a second rotor to first supercharge the intake air and then extract energy from the exhaust. Figure 1 shows a compound rotary engine developed by Rolls-Royce. It uses a large compressor/expander rotor to supercharge the power rotor and then returns the exhaust from the power rotor to the expansion cycle of the larger rotor.

Figure 1: Rolls-Royce Compound Engine

We have developed a compounding design that uses two rotors of the same size that share the same drive shaft, which simplifies the design, improves the volumetric efficiency, and eliminates the oil bath lubrication system and the power-robbing oil cooled rotor (see Figure 2). With the improved thermal efficiency of the compound rotary engine it becomes the ideal candidate for electrical generation from biogas sources: 1) it does not require filtering for H2S or siloxane; 2) it can operate at low CH4 concentrations; 3) engine emissions are far lower than EPA NSPS biogas standards; 4) it runs very quiet (due to acoustical energy extraction); and 5) it costs less than 1/3 the price of existing generator solutions because of its relative simplicity ($877/kW versus $2896/kW for microturbines or $2594/kW for IC engines).Figure 2: Compound Rotary Engine

For distributed energy production a turbocharger is not feasible while a compound rotary engine design should be able to approach the Dept. of Energy's goals for GENSETS (Generator for Small Electrical and Thermal Systems), which requires a fuel-to-electrical efficiency of 40%.

Grant funding will be used to complete the development and optimization of two versions of the compound rotary engine. The first would be a 530cc rotor displacement model suitable to power a biogas gen-set. The second would be a 27cc rotor displacement model to power a 1kW CHP gen-set.
If our CP is accepted, we will submit a full application and continue forward in the process.  There are no timelines but it looks like funding will happen in Q2 or early Q3.
Other Tasks
My next job is to complete the Elemental Excelerator full application, which is due in a few weeks.  Also, we have identified several private equity firms that invest in renewable energy technology and we are starting to approach them as well.  Our investors & potential partners in the biogas gen-sets, who visited a couple weeks ago, are still working with their VC partners.  We will follow up with them this week.
One other thing I learned from the conference talking with the President of West Coast Advisers, Michael Boccadoro, is that the  San Joaquin Valley Air Pollution Control District (aka Valley Air District) usually has grant money for research into generator technology that focuses on clean emissions.  So one of my coworkers contacted them and they are going to be accepting grant applications next quarter.  I believe we can do a very cool project for Valley Air.
Our most immediate concern is securing funding in the short term.  We hope to make some progress with our potential partner in the biogas generators this week.  Also, there are still 2 big potential investors we are talking to who are interested in our Moller International aircraft technology and we hope something will click there.  But in the mean time, I will not sit back and rest, and I will continue to search for additional gap funding until we get some agreements with these larger partners/investors.
I have included some additional reference links below, related to the biogas industry in California.
ICO Update!  Yes, as you suspect, I have not been working much on the ICO.  It's been difficult to focus time on the ICO the last couple weeks, as I have had work on our biogas business plan and this ARPA-E funding opportunity.  I will get back into it this week, but I have not done any work on the ICO in the past two weeks.   A couple complicating factors are the SEC making the determination that ALL ICOs to date look like security sales, and the realization that the overall costs of an ICO fundraising event may not be much different than a REG A+* share offering.  Also, much of this depends on any agreements we develop with the other company we are talking to about the biogas gen-sets.  So we have to wait a bit and see how things develop before we pull the trigger on the ICO.  But regardless, I will be again doing research this week on the ICO plans and refining our ICO whitepaper.
Thanks for your patience!  If you have any questions, feel free to comment below or send me email directly.
Best Regards – Dave
*NOTICE: NO MONEY OR OTHER CONSIDERATION IS BEING SOLICITED, AND IF SENT IN RESPONSE, WILL NOT BE ACCEPTED. NO OFFER TO BUY THE SECURITIES CAN BE ACCEPTED AND NO PART OF THE PURCHASE PRICE CAN BE RECEIVED UNTIL AN OFFERING STATEMENT TO BE FILED BY THE COMPANY WITH THE SEC HAS BEEN QUALIFIED BY THE SEC. ANY SUCH OFFER MAY BE WITHDRAWN OR REVOKED, WITHOUT OBLIGATION OR COMMITMENT OF ANY KIND, AT ANY TIME BEFORE NOTICE OF ACCEPTANCE GIVEN AFTER THE DATE OF QUALIFICATION. AN INDICATION OF INTEREST INVOLVES NO OBLIGATION OR COMMITMENT OF ANY KIND. NO OFFERING STATEMENT REGARDING THIS OFFERING HAS BEEN FILED WITH THE SEC. WHEN SUCH OFFERING STATEMENT IS FILED, THIS LEGEND WILL BE UPDATED TO IDENTIFY WHERE YOU MAY OBTAIN A COPY OF THE PRELIMINARY OFFERING CIRCULAR THAT IS PART OF SUCH OFFERING STATEMENT.
Reference Links
US Dept. of Energy – Energy Efficiency and Renewable Energy – Alternative Fuels Data Center
https://www.afdc.energy.gov/
The Coalition for RNG
http://www.rngcoalition.com/
Life-cycle Analysis of GHG Emissions
https://www.epa.gov/renewable-fuel-standard-program/lifecycle-analysis-greenhouse-gas-emissions-under-renewable-fuel
CA Air Resource Board – Low Carbon Fuel Standard
https://www.arb.ca.gov/fuels/lcfs/lcfs.htm
San Joaquin Valley Air Pollution Control District
http://www.valleyair.org
California Energy Commission – Renewables Portfolio Standard
http://www.energy.ca.gov/portfolio/
EPA Renewable Fuel Standard
https://www.epa.gov/renewable-fuel-standard-program
Biomass Power Association
http://www.usabiomass.org
California BioEnergy
http://calbioenergy.com/
Bioenergy Association of California
http://www.bioenergyca.org/
Dairy Cares
https://www.dairycares.com/
Phoenix Energy
http://www.phoenixenergy.net/
Biomass Magazine
http://biomassmagazine.com/