Why Biogas?
The United States produces 70 million tons of organic waste every year. When improperly managed, this waste releases a significant amount of dangerous containments to our environment, including large amounts of methane, a powerful greenhouse gas.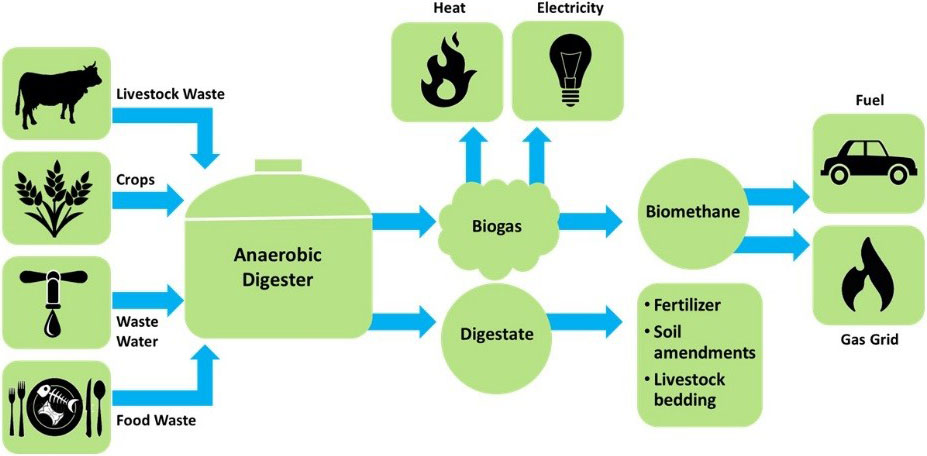 Anaerobic Digestion Process "Fact Sheet - Biogas: Converting Waste to Energy"
Through careful management of organic waste and controlling methane production process through managed anaerobic digestion systems, we can capture the resulting biogas to be used in heat and energy generation systems. Because the source of this biogas is from organic waste, it is a carbon-neutral cycle that will not increase levels of global warming gasses in our atmosphere.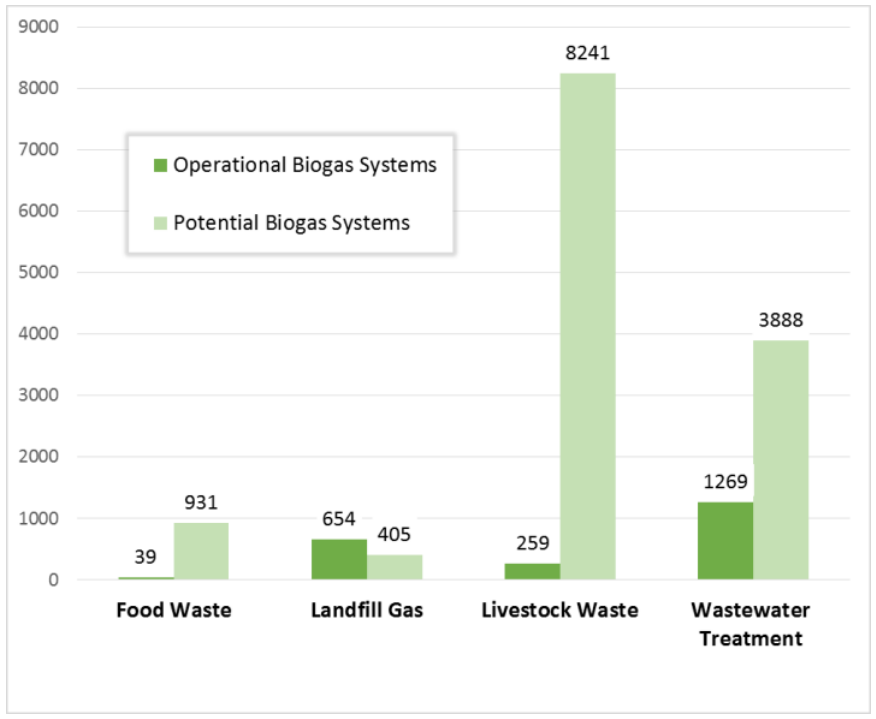 Current number of operational and potential biogas systems in the United States by feedstock.EPA
In the United States there are huge opportunities for biogas electrical generation systems - for example, in 2018 the EPA estimated the potential for over 8,000 livestock biogas systems, which would generate over 15 million megawatt-hours of energy every year.
Global methane emissions have risen far faster than expected over the last 10 years. Agricultural methane emissions have been recently determined to be higher than previously calculated. The Global Warming Potential (GWP) of methane has been re-evaluated by the IPCC to be much higher than originally calculated, now at 86 times more potent than carbon dioxide over its 10 year lifetime. (See GWP of methane on p.714 in Chapter 8 of the Climate Change 2013: The Physical Science Basis report, part of the fifth assessment report from the IPCC).
In California, the Air Resources Board has adopted strict rules for methane emissions, which went into effect on January 1, 2018. (See the SLCP Reduction Strategy) The Global Methane Initiative has identified many mitigation opportunities in their summary analysis.
Biogas Electrical Generation
Freedom Motors has a unique market solution for renewable energy generation utilizing biogas from any source. Our Rotapower engine solves many problems associated with biogas electrical generation.
The Rotapower Solution
Low Cost
Installed systems 66% lower cost than existing solutions
Scalable Options
20kW to 500 kW generator configurations
Resists Contaminants
No filtering required for hydrogen sulfide or siloxane
Reduced Emissions
Untreated exhaust emissions 5X lower than EPA standards
Low Maintenance
Few critical engine components & 20,000+ hour run life
Fuel Flexibility
Runs on biogas with 40% and higher methane concentration
The Rotapower® engine can run on a variety of fuels (ethanol, methanol, gasoline, natural gas, diesel, etc.) However, through extensive testing we have shown that the Rotapower® engine is unique in that it can run on untreated methane (biogas, sour gas) without any detrimental effects. And because of the lean burn combustion conditions, most pollutants are completely eliminated. The engines only have 2 moving parts, and due of our patented cooling and lubrication technologies, have a continuous run-life greater than 20,000 hours. Combining the Rotapower® engine with an off-the-shelf generator will allow companies to completely eliminate their methane emissions and convert this energy directly in to usable electricity, to be used locally or sold directly to a power company.
Rotapower® Combustion of Landfill Gas (LFG)
(Without Pilot/Coolant Fuel)
Assumptions:
Single Rotor Displacement (cc): 530
Est. Thermal Efficiency: 27%
Est. Volumetric Efficiency (Naturally Aspirated): 70%
% Methane in LFG: 60%
Generator Efficiency: 90%
Biogas Density (25°C, 1 atm): 1.15 kg/m3
Rotors
Disp
(cc)
RPM
Engine
(cfm)
Methane
[CH4]
(cc)
Landfill
Gas [LFG]
(cfm)
Landfill
Gas [LFG]
(cmd)
Landfill
Gas [LFG]
(kgd)
Air Used
(cfm)
Energy
from CH4
(BTU/hr)
Mechanical
Power
(BHP)
Electrical
Power
(kW)
1
530
3600
47.2
4.2
7.0
287.0
330.1
40.1
244,280
26
17
4400
57.6
5.2
8.6
350.8
403.4
49.0
298,564
32
21
5200
68.1
6.1
10.2
414.6
476.8
58.0
352,849
37
25
6000
78.6
7.0
11.7
478.4
550.1
66.9
407,133
43
29
2
1060
3600
94.3
8.4
14.1
574.0
660.2
80.2
488,560
52
35
4400
115.3
10.3
17.2
701.6
806.9
98.1
597,129
63
43
5200
136.2
12.2
20.3
829.2
953.6
115.9
705,698
75
50
6000
157.2
14.1
23.5
956.7
1100.3
133.7
814,267
86
58
3
1590
3600
141.5
12.7
21.1
861.1
990.2
120.4
732,840
78
52
4400
172.9
15.5
25.8
1052.4
1210.3
147.1
895,693
95
64
5200
204.4
18.3
30.5
1243.8
1430.3
173.9
1,058,547
112
75
6000
235.8
21.1
35.2
1435.1
1650.4
200.6
1,221,400
130
87
4
2120
3600
188.6
16.9
28.2
1148.1
1320.3
160.5
977,120
104
70
4400
230.6
20.6
34.4
1403.2
1613.7
196.2
1,194,258
127
85
5200
272.5
24.4
40.7
1658.4
1907.1
231.8
1,411,395
150
101
6000
314.4
28.2
46.9
1913.5
2200.5
267.6
1,628,533
173
116
5
2650
3600
235.8
21.1
35.2
1435.1
1650.4
200.6
977,120
104
70
4400
230.6
25.8
43.0
1754.0
2017.1
245.2
1,492,822
158
106
5200
340.6
30.5
50.8
2072.9
2383.9
289.8
1,764,244
187
126
6000
393.0
35.2
58.7
2391.9
2750.6
334.4
2,035,667
216
145
6
3180
3600
283.0
25.3
42.2
1722.1
1980.5
240.7
1,465,680
156
104
4400
345.8
31.0
51.6
2104.8
2420.6
294.2
1,791,387
190
128
5200
408.7
36.6
61.0
2487.5
2860.7
347.7
2,117,093
225
151
6000
471.6
42.2
70.4
2870.2
3300.8
401.2
2,442,800
259
174
7
3710
3600
330.1
29.6
49.3
2009.2
2310.5
280.9
1,709,960
181
122
4400
403.5
36.1
60.2
2455.6
2824.0
343.3
2,089,951
222
149
5200
476.9
42.7
71.2
2902.1
3337.4
405.7
2,469,942
262
176
6000
550.2
49.3
82.1
3348.6
3850.9
468.1
2,849,933
302
203
8
4240
3600
377.3
33.8
56.3
2296.2
2640.6
321.0
1,954,240
207
139
4400
461.1
41.3
68.8
2806.4
3227.4
392.3
2,388,515
253
170
5200
545.0
48.8
81.3
3316.7
3814.2
463.6
2,822,791
300
201
6000
628.8
56.3
93.9
3827.0
4401.0
535.0
3,257,067
346
232
9
4770
3600
424.4
38.0
63.4
2583.2
2970.7
361.1
2,198,520
233
157
4400
518.8
46.5
77.4
3157.2
3630.8
441.3
2,687,080
285
191
5200
613.1
54.9
91.5
3731.3
4291.0
521.6
3,175,640
337
226
6000
707.4
63.4
105.6
4305.3
4951.1
601.8
3,664,200
389
261
To learn more about the Rotapower® engine and the business opportunities for methane emission mitigation, please read our whitepaper: Using the Rotapower® Engine to Reduce Atmospheric Methane Content. Also, please watch this video interview for Discovery Channel with our President, CTO and Rotapower® engine inventor, Dr. Paul Moller::
Dr. Moller Interview with Daily Planet - Nov 23 2017